New Books on Elites
Democratizing Candidate Selection - New Methods, Old Receipts?
Editors: Cordero, Guillermo, Coller, Xavier (Eds.)
Palgrave Macmillan 2018
XX, 288 pages, 20 b/w illustrations
ISBN 978-3-319-76549-5 Hardcover, $ 159.00
ISBN 978-3-319-76550-1 eBook, $ 119.00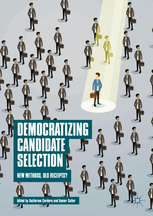 This book studies the challenges to conventional politics posed by new ways of selecting candidates for legislative elections. The recent economic crisis had profound political consequences on politics, generating an upsurge in the demand for more participative ways of decision-making in politics channelled through social movements and individuals in different countries. Some parties have reacted by introducing changes in their internal organization (via intra-party democracy), particularly related to the selection of candidates for public office. This volume explores the trends and challenges of these new methods of selection, analyses how the internet is increasingly being used as a selection tool, and evaluates some of the relevant consequences related to political representation, party cohesion and party centralization, among others.
The Selection of Politicians in Times of Crisis
Edited by Xavier Coller, Guillermo Cordero, Antonio M. Jaime-Castillo
© 2018 – Routledge
288 pages | 12 B/W Illus.
ISBN 9781138895218, Hardback £ 98.00
ISBN 9781315179575, E-Book £ 33.29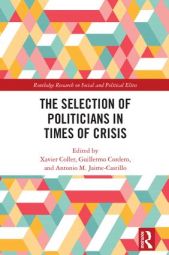 Selecting candidates for elections is a major goal of political parties and a major function of political regimes in democratic systems. With the negative effects of the economic crisis being seen to translate into changes in voting patterns, and citizens using elections to punish parties in government for their roles in economic mismanagement or lack of response to the global economic crisis, a broad examination is required.
This book is presented as the first comparative study of the effects of the political crisis on candidate selection covering a large number of countries. Using an integrated framework and unified strategy, it examines how new relevant political actors are really implementing participative ways of candidate selection, whether they are being innovative in their political environments and the extent to which traditionally mainstream parties are changing selection procedures to have more open and inclusive mechanisms as part of internal, or intra-party, democracy. The book illuminates these issues through empirically driven chapters explaining changes in the way candidates for parliaments are selected in countries where new parties have emerged and consolidated, or where traditional mainstream parties have adopted new mechanisms of selection affecting (if not challenging) traditional politics. Additionally, therefore, this work will serve as a response to some current debates in the discipline on the consequences of the democratization of party life, relating political participation and representation.
This text will be of key interest to scholars and students of political parties, organizational change, social and political elites and more broadly to comparative politics and sociology.
The Palgrave Handbook of Political Elites
Editors: Heinrich Best and John Higley
Section Editors: Maurizio Cotta, Jean-Pascal Daloz, Ursula Hoffmann-Lange, Jan Pakulski, Elena Semenova
Palgrave Macmillan 2017
698 pages
ISBN 978-1-137-51903-0 Hardcover,
ISBN 9781-137-51904-7 eBook
The handbook was published in the fall of 2017 and is a collaborative work of current and former officers of RC02. Many of our active members have actively contributed to the book. We gratefully acknowledge the help of Verona Christmas-Best and the Palgrave team in preparing the final manuscript and the production of the book.
Palgrave_Handbook_of_Political_Elites_ToC.pdf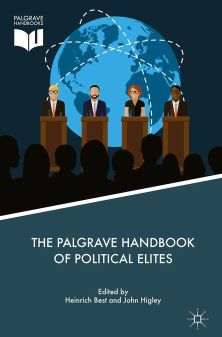 This handbook presents a comprehensive view of the current theory and research surrounding political elites, which is now a pivotal subject for academic study and public discourse. In 40 chapters by leading scholars, it displays the field's richness and diversity. The handbook is organized in six sections, each introduced by a co-editor, focusing on theories about political elites, methods for studying them, their main structural and behavioral patterns worldwide, the differentiation and integration of political elite sectors, elite attributes and resources, and the dilemmas of political elites in this century. Forty years since Robert Putnam's landmark Comparative Study of Political Elites, this handbook is an indispensable resource for scholars and students engaged in the study of this vibrant field.
Diploma Democracy. The Rise of Political Meritocracy
Mark Bovens and Anchrit Wille
Oxford: Oxford University Press 2017
ISBN: 9780198790631, 256 Pages
Hardback £55.00, also available as E-Book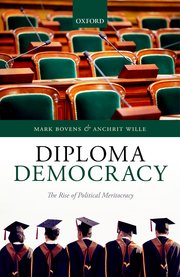 Lay politics lies at the heart of democracy. Political offices are the only offices for which no formal qualifications are required. Contemporary political practices are diametrically opposed to this constitutional ideal. Most democracies in Western Europe are diploma democracies - ruled by those with the highest formal qualifications. Citizens with low or medium educational qualifications currently make up about 70 percent of the electorates, yet they have become virtually absent from almost all political arenas. University graduates have come to dominate all political institutions and venues, from political parties, parliaments and cabinets, to organised interests, deliberative settings, and Internet consultations. This rise of a political meritocracy is part of larger trend. In the information society, educational background, like class or religion, is an important source of social and political divides. Those who are well educated tend to be cosmopolitans, whereas the lesser educated citizens are more likely to be nationalists.
This book documents the context, contours, and consequences of this rise of a political meritocracy. It explores the domination of higher educated citizens in political participation, civil society, and political office in Western Europe. It discusses the consequences of this rise of a political meritocracy, such as descriptive deficits, policy incongruences, biased standards, and cynicism and distrust. Also, it looks at ways to remedy, or at least mitigate, some of the negative effects of diploma democracy.
LA REPRÉSENTATION POLITIQUE Jean-Pascal Daloz
Paris: Armand Colin 2017 EAN : 9782200614539 Paper: €22.50, E-Book €14.99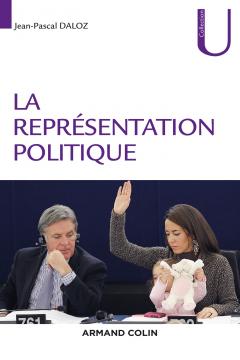 Objet majeur de réflexion pour l'analyse politique, la sensible question de la représentation mérite d'être abordée empiriquement, au-delà des essais normatifs qui dominent la littérature sur le sujet. C'est pourquoi, sans négliger l'histoire des idées et les débats contemporains relatifs à la crise de la représentation, le présent ouvrage nous entraîne sur des terrains délibérément concrets. Faisant référence à un large éventail d'études, tant anglophones que francophones, tout en privilégiant une optique comparative, il nous amène à considérer aussi bien le travail de légitimation des représentants au quotidien que les modalités théâtrales de la représentation. Il propose également des développements très novateurs sur la tension entre exigences d'éminence et de proximité. Estimant qu'il est grand temps de cesser de parler de la représentation comme s'il s'agissait d'une réalité univoque, son originalité est de relier constamment la thématique de la prise en charge des intérêts à celle des perceptions et surtout des dimensions symboliques de la relation.
The Endangered West. Myopic Elites and Fragile Social Orders in a Threatening World
Transaction Publishers 2016
List Price: $27.95
ISBN: 978-1-4128-6415-2
Pages: 243 Paperback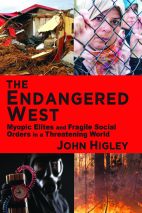 Bold political elites and unique forms of social order brought the West to world dominance, but both are weakening dramatically in the contemporary period. The Endangered West makes the case for the continuation of Western power on as wide a global basis as is prudent. Is the survival of Western influence possible, or must we resign ourselves to its eventually being subordinated to more ruthless powers?
Higley lays out the main policy lines that successful leadership will have to follow to preserve and strengthen Western societies. These include avoiding futile involvements in the internal problems of non-Western countries and preserving sufficient social order to permit public and private organizations to function. The West will also have to find a way to regularize treatment of the growing number of those who lack employment; invent new forms of useful work for Westerners to perform; inhibit large in-migrations, and discourage population growth. Above all, the West must address the threat of environmental disaster.
There is no certain result in the struggle, but such measures will help to prevent a slide into despotism or a lapse into barbarism. Half the battle is to hold on to what the West has and, if possible, extend it. Progress will be made if elites and opinion leaders address societies' problems more competently. If the West's prestige is restored, world tensions may gradually subside, making meeting global problems more possible.
Lars Vogel & Juan Rodríguez-Teruel (Eds.): National Political Elites and the Crisis of European Integration, Country Studies 2007-2014.
Historical Social Research Vol. 41 (2016) 4
European Integration is currently facing tremendous challenges caused by a series of cumulating crises. Their onset was the global financial and economic crisis in 2008 that rapidly evolved into a sovereign debt crisis, further into a crisis of the Eurozone and led eventually to a political crisis of the entire EU. National political elites have been among the core actors to cope with these challenges. Their behaviour is driven by their Europeanness, i.e. their emotionally and rationally determined attitudes, cognitions and strategies regarding European Integration. To take elites' greater influence accordingly into account this HSR Special Issue analyzes the shape and determinants of national elites' Europeanness and the way it developed during the crises.
The analysis is based on country studies covering 10 EU Member States that represent the main regions within the EU and the salient conflict lines during these crises. It makes use of a unique research design that integrates three surveys among national parliamentarians conducted by the IntUne and the ENEC research projects in 2007, 2009 and 2014 thereby spanning the various stages of the crises. The contributions demonstrate that the crises have affected national elites' Europeanness in complex ways that are determined by the diversing impact they had on the investigated countries and by how elites perceive the efficiency of supranational integration to cope with them. Beyond national differences, the general evaluations of Europeanness remain quite stable pro-European while preferences regarding the concrete organization of integration are rather prone to change. Elites' Europeanness primarily shifts in countries, in which strong Eurosceptic parties gained ground during the mentioned crisis indicating that there is the still overwhelmingly pro-European elites are faced with the challenge of responsiveness to an increasingly Eurosceptic population.
IBERIAN ELITES AND THE EU. PERCEPTIONS TOWARDS THE EUROPEAN INTEGRATION PROCESS IN POLITICAL AND SOCIOECONOMIC ELITES IN PORTUGAL AND SPAIN
Editors: Jerez Mir, Miguel, Real-Dato, José, Vázquez-García, Rafael
Granada: Editorial Universidad de Granada 2016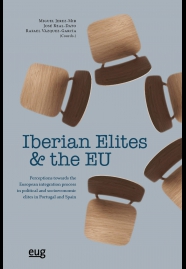 The aim of this book is to shed light on the role played by Portuguese and Spanish elites regarding European integration. Some questions of interest are: to what extent do Iberian elites support the EU integration process? How does this support manifest itself in terms of identity? To what extent do these elites trust EU institutions? What degree of support do they show towards the Europeanization of domestic policies? Are elites' preferences similar to those of their fellow citizens? The work also highlights similarities and differences between the two countries, as well as their specificity with respect to the rest of member states of the EU. With this purpose in mind, the book has tried to trace a detailed vision from a historical perspective in order to analyse several singular topics, such as identity and political representation, the preferences of elites and citizens regarding the more appropriate level of government to deal with public policies, as well as the impact of the economic crisis on the perception of the EU project among the public and the elites. Taken as a whole, the book makes an important contribution to a more holistic and pervasive understanding of how the perceptions of citizens and elites regarding the EU have evolved in these last years.
Political Leadership in the Spanish Transition to Democracy (1975-1982)
Editors: José Francisco Jiménez-Díaz & Santiago Delgado-Fernández
Hauppauge, New York: Nova Science Publishers, 2016
ISBN: 978-1-63484-401-7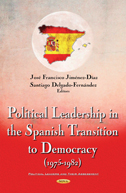 A key idea in the study of democratic transitions is the notion that political actors play a pivotal role in initiating, controlling and shaping the changes that lead to democracy. Based on this premise, this book aims to offer an in-depth study of a series of political leaders that played a significant role in the Spanish democratic transition (1975-1982). This book opens with an introduction providing the historical, political and theoretical context for the study of the political leaders of the Spanish transition to democracy. The authors then offer in the first half of the book a study of the central and/or innovative leaders of the political transformation, i.e. Torcuato Fernández-Miranda, Adolfo Suárez González, Felipe González Márquez, Manuel Fraga Iribarne and Santiago Carrillo Solares. The second half of the book analyzes the leadership roles of Fernando Abril Martorell, Francisco Fernández Ordóñez, Alfonso Guerra González, Jordi Pujol i Soley and Xabier Arzalluz Antia. Taken together, these ten leaders represented the main options in the political spectrum of the Spanish transition. Despite numerous studies devoted to the Spanish transition, little attention has been paid to it. This book aims to reconsider these ideas in an effort to improve upon our knowledge of political leadership during a crucial time in recent Spanish history.
Published on Tuesday, June 26 2018 by Ursula Hoffmann-Lange